The history of Point Chevalier School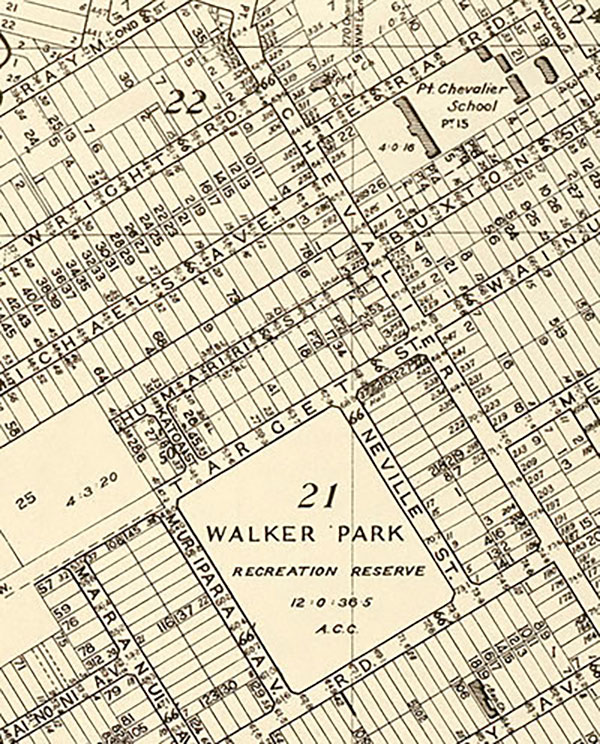 In 1840, Pt Chevalier was a vast expanse of white manuka and scrub with a few tracks linking the Māori settlements; one being at the mouth of the Oakley Creek and another on the banks of the Meola Creek.
In January 1861, the first pioneers settled on the land between Meola and Oakley Creeks. They journeyed from town by dray drawn by seven bullocks, frequently stopping to cut a track through the scrub.
At this time, Point Chevalier settlers had to walk their children to school at Morningside – a long trek over rough tracks. Later children transferred to Whau School on the corner of Great North Road and the road leading to Blockhouse Bay Beach.
Several petitions were made requesting a school be built in the Point Chevalier area but no action was taken. In May 1886, there were 70 children of school age within the district, but progress was slow. It was 1887 before 3 acres were purchased in Gladstone Road for £300 ($600). A school consisting of two rooms and a large porch were opened on 15 October 1887. They were used until January 1898 when they were destroyed by fire.
By 1915 the roll had expanded to 405 and a further school was desperately needed. A site was finally purchased for £1,150 in Te Ra Road. A side school was opened in Armstrong's Hall in June 1922 for primer classes only and the new school in Te Ra Road was officially opened in June 1925. The school catered for students from Primer classes to Standard 6.
By 1927 the school was using the local church hall for the overflow from its standards' classes. A new infant block was opened in September 1927 to ease the pressure of a roll of 680. But by the end of 1929, with porches being used as classrooms, temporary buildings were brought on site to cater for the number of students at the school. Another new infant block was built at the Walford Road end of the school in 1941. Roll growth in the area led to the opening of Pasadena Intermediate in 1942 to cater for the Standard 5 and 6 students. Despite this 'decapitation' of the school, by the end of 1945 the school's roll was 900 students.
On Arbour Day 1927, 30 native trees were planted by students, staff and members of the school committee. These trees were designated as a war memorial to commemorate the contribution of local servicemen in World War I. In September 1928, on the occasion of the first flight from Sydney to New Zealand, Squadron-Leader Charles Kingsford Smith and some of his crew visited the school and planted five trees on the Te Ra Road frontage in memory of this flight. They planted three Australian red gums (blown down in a storm in 1932), and a puriri and a totara which still flourish.
As a result of these and subsequent plantings, the school has its own small urban forest – providing a much loved backdrop for teaching, learning and recreation for the local community.